& if ya don't...
It will drain your mind with all the oooohh's & ahhh's...
it will make you constantly tell yourself
I"M SOOOOO DOING THAT
(& of course you just spend to much time on pinterest you never get to it)...
It will take up all the precious spare time you do have!
Well, that is exactly what happens with me every time I hit that little log in button
BUT when I spotted a canvas picnic blanket I was like OMGEE
definitely doing that!
My little guys & I sure do love picnic dates! So I took a trip up to lowes in search for a drop cloth, but of course lowes did not have the exact size I was looking for...just my luck!
I did get lucky & scored this..
I was waiting in line to get my paint ah'mixin & there it was...
Someone had returned this beautiful can of paint & I had to have it.
It was just the color I was looking for, but for wayyyyy cheaper!
I grabbed some blue tape and was off to home depot where I found the perfect size canvas.
I used a 5x5 & to my surprise it had a leak proof backing!
I went straight home and began measuring with a ruler..
(I hate trying to be precise)
I made a chevron
pattern out of some extra vinyl that I already had
(my fav. pattern at the moment)
I grabbed my painters tape and began taping...
I stood back to check it out &
absolutely hated it!
I took it all off and decided just to free hand it.
I hate being that IT HAS TO BE THIS WAY type of girl...
I love just going for it and just letting my craftiness take over.
I think it took me longer to make the pattern than actually just going for it.
After I taped my pattern I started to paint.
Well, once my little "helper" stopped using it as a race track.
I let it dry and there it was.. ready for our first picnic
=D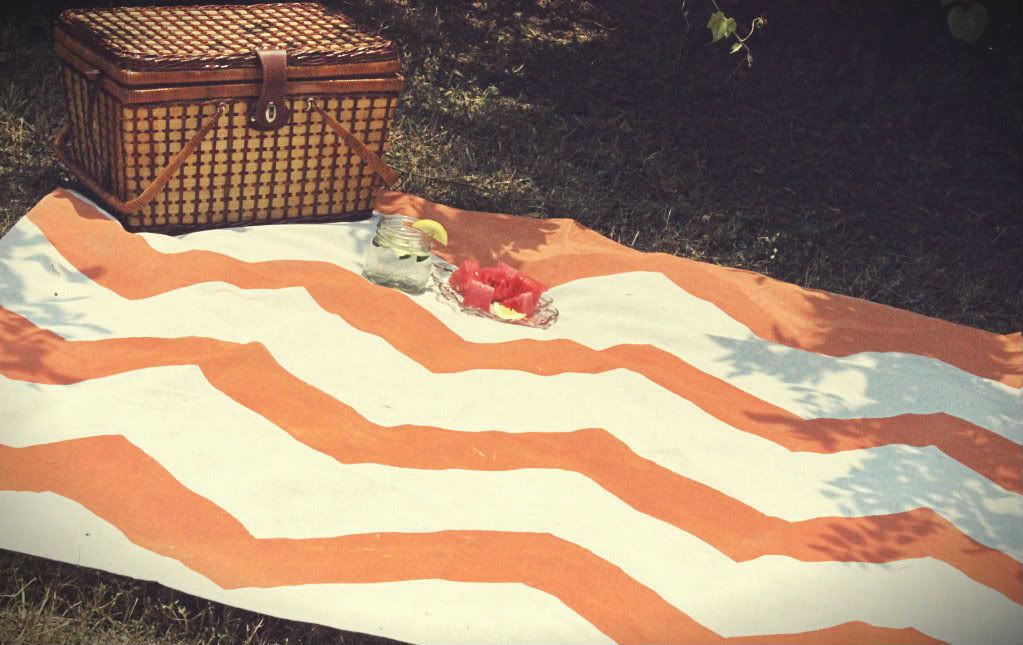 This blanket has been very handy this summer..
I even take it out to the pool with us.
Perfect for a play area for my little guy to crawl around on.
Now get to picnic'nnn
HAPPY THURSDAY Y'ALL!
-Toodles, Jen